Creating your Own Dogfight - Setting up Debris
Page 4 of 6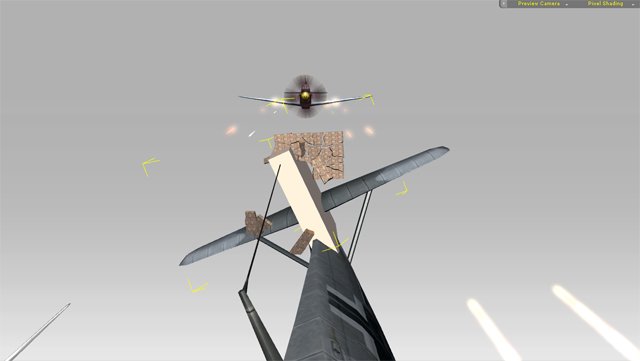 This debris shot was so easy to setup most of you may not believe it till you read this.
I used the FREE Floor_02 destructible prop that comes with iClone 5 and simply placed it in space in front of the tail of the ME-109 which had a physics enabled dummy attached to the tail with its opacity set to zero.
With the physics enabled the ME-109 flies through the destructible floor prop but the debris fell to the bottom too fast with the physics default setting so I set the gravity to zero and the debris is sent back to collide with the P-51 Mustang.
The trailing P51 also has invisible dummies attached to the cockpit and fusilage in order to deflect any debris that might hit them hoping to add to the realism of the shot.
The most difficult part of this scene is timing the debris for impact which is not that difficult as it can happen anywhere on the path or timeline that you choose.