Creating your Own Dogfight - Path Setup
Page 3 of 6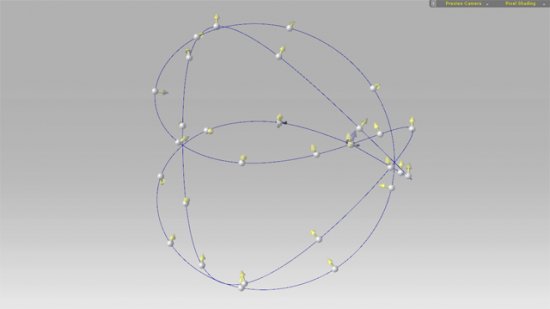 The bulk of the air combat is made up of one scene using a stock path - Orbit02. This path is a great choice for Dogfights and only needs to have the waypoint markers turned in the proper direction to bank or roll the planes to match the turn.
In this instance the Mustang was placed at the beginning of the path and the ME-109 was placed half way between the first and second markers by editing the path and inserting a control point at the distance you wish the front fighter to be from the trailing fighter. The time slider was moved down to the last frame of that dogfight section and the fighters were placed on the last two control points respectively. We could also create another new control point to put the trailing mustang on so it wont occupy the same space as the first fighter when the animation ends.
When placing objects on paths make sure you pick the right marker and the right orientation. Be sure to select FOLLOW PATH and this example uses the -Y axis to propely align the planes to the path. In this case the scene was 1800 frames long so that was the interval between the first and last path control points.
I also created a custom s-path for one scene where the planes were turning.