Creating your Own Dogfight - Setting Up the Shader
Page 2 of 6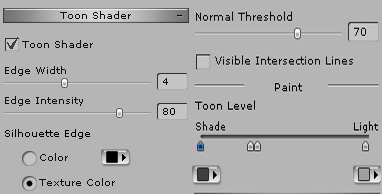 The Toon render settings are shown above:
The Normal Threshold is raised to 80.
Note the settings of the middle sliders in the Toon Level section. Experimentation with these is highly recommended.!
The next step in the process involves the setting up the Post Effects. With a realtime engine like iClone we can view our "Post Effects" before video is rendered making it "Pre-Effects" for all practical purposes.
The Post Effects stack allows us to stack up to five different Post Effects in any order we choose by moving the effects up and down the stack and yes... we can use the same effect multiple times depending on what you are looking for.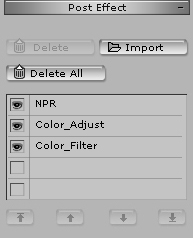 As you can see by the screenshot it only took three Post Effects to get the look of this render.
These Post Effects are:
NPR - Non Photo Realistic includes the Paint Weight and Colorfull Sliders
Color Adjust - Brighness, Contrast and Gray Style which is where we remove our color.
Color Filter - Red, Green and Blue Sliders
These simple effects go a long way towards making an impact on the final render when combined with the Toon Shader.
NPR:
Color Adjust
Color Filter
Paint Weight: 79
Colorfull: 20
Brightness: 20,
Contrast: 9
Gray Style: 20 (maximum)
Red: 11
Green: 7
Blue: 3
The remainder of the lighting and atmosphere are default settings.
Next we will move on the path setup.